If you like this post or any of the other posts you see here, consider a donation to the SportsPaper Patreon campaign. With your help I can make this site even better!
---
You know how almost every year, when the last undefeated team in the NFL finally loses, the '72 Miami Dolphins bust out their tired routine of celebrating publicly? Well not too long (relatively) after that record was set, a current group of Dolphins seemed to be the only thing between that record actually falling.
Twelve weeks into the 1985 season the Chicago Bears seemed to be unstoppable. They had an unblemished record and had just annihilated the Lions, Cowboys, and Falcons by a combined score of 104-3. Only two teams with winning records remained on their schedule: the Dolphins and New York Jets. And so the Bears arrived at the Orange Bowl for a week 13 showdown on Monday Night Football.
The Dolphins, defending AFC champions, seemed determined to stop Chicago's march toward history. They piled up 31 first-half points thanks largely to a pair of Dan Marino to Nat Moore TD passes and a Ron Davenport rushing TD. All the Bears managed was a single rushing score from backup QB Steve Fuller — starting due to a Jim McMahon shoulder injury — and a Kevin Butler field goal.
The Bears scored in the third quarter to pull within 14, but any momentum they gained was lost when Butler muffed the ensuing kickoff, which Dolphins rookie Alex Moyer recovered at the Bears 46. Dan Hampton then tipped a Marino pass into the air, but it sailed downfield for 30 yards before landing in the hands of Clayton, who scored to make it 38–17. Fuller hit Ken Margerum for a 19-yard touchdown, but that would be the last score of the night for the Bears.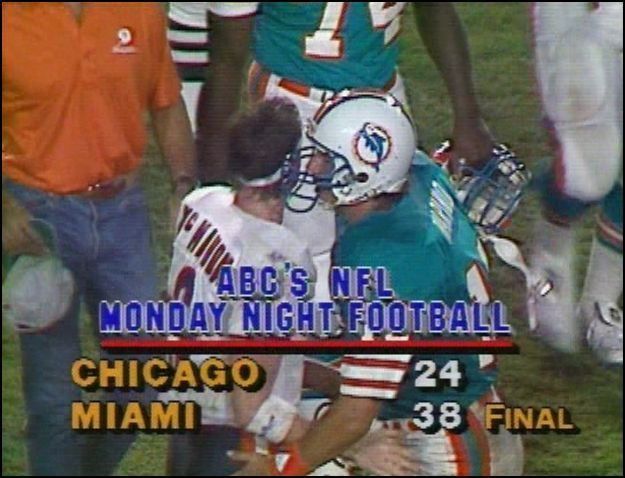 One bright spot for Chicago, other than eventually winning Super Bowl XX of course, was that Walter Payton collected his league record eighth consecutive 100-yard rushing game. He extended that streak to 9 the next week, but the record was short-lived as the Raiders' Marcus Allen broke it during the 1986 season.